Description
IQ Plus – Brain and focus formula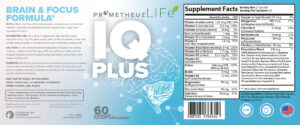 IQ Plus, brain and focus formula may provide an abundance of essential vitamins, minerals and compounds that could support brain, organ and cognitive function. Our IQ plus formula provides the right brain energy to possibly aid you in fighting mental fatigue and improving intelligence, having you on the tip of your toes!
Description:
The Prometheuz Heath brain and focus formula, IQ Plus, has been carefully concocted for its potential to help increase mental clarity and focus by feeding the brain the right nutrients to stay focused for longer. IQ Plus is high in antioxidants and anti-inflammatories that may improve healthy brain function along with supporting other organs. Our formula will make you stay focused for longer without experiencing mental fatigue.
Ingredients
Vitamin A
122mcg
Vitamin C
125mg
Calcium
20mg
Iron
1mg
Vitamin D
3mcg
Vitamin E
14mg
Vitamin B1
3mg
Vitamin B2
1.7mg
Vitamin B3
12.5mg
Vitamin B6
12mg
Folate
666mcg
Biotin
3mcg
Vitamin B5
12mg
Magnesium
50mg
Zinc
10mg
Selenium
50mcg
Copper
52mcg
Manganese
4000mcg
Chromium
12mcg
Molybdenum
10mcg
Potassium
50mg
Choline
50mg
Proprietary Blend

DMAE Bitatrate

L-Glutamine HCL

Glutamic Acid

Green Tea Extract

Bacopa Extract

Inositol

N-Acetyl L-Thyrosine

Bilberry Fruit Extract

GABA

Grape Seed Extract

Olive Leaf

Cinnamon Bark Extract

Licorice Root Extract

Baron

DHA

14% Vanadyl

Phosphatidylserine

Huperzine A

642mg
Ingredient Benefits:
Vitamin A, benefits the human body by ensuring proper function for the heart, kidneys, lungs and other organs. It also strengthens the immune system.
Vitamin C, also naturally found in certain foods, is an essential vitamin for the human body. Vitamin C acts as an antioxidant by protecting cells from damage, strengthens the immune system and maintains healthy bones.
Calcium is a much needed mineral to help maintain and build stronger bones. The heart, muscles and nerves also require calcium to function properly.
Iron, found in both meat and plant based foods, is an important mineral that helps preserve many vital bodily functions, such include general energy levels and focus, regulate temperature and immunity.
Vitamin D, is naturally produced in the body in response to the sun and is also found in certain foods. Vitamin D helps regulate calcium and phosphate in the body which help keep bones, teeth and muscles healthy.
Vitamin E, found in some foods, is an essential vitamin the body needs to support a healthy immune system. Vitamin E also holds antioxidant and anti inflammatory properties that benefit and promote a healthier skin complexion.
Vitamin B Complex is composed of eight B vitamins that promote normal brain function, energy levels and cell metabolism and growth.
Folate, one of the B vitamins, plays an important role in producing red and white blood cells in bone marrow. It also converts carbs into energy and produces DNA. Folate also helps with mental fatigue and irritability as it is able to supply the body with energy.
Biotin, also a B vitamin, converts food into energy and helps boost organ health including hair and nails.
Magnesium, an important mineral with anti-inflammatory benefits, helps regulate the nervous system and improves brain function and mood.
Zinc, a nutrient in the body, helps strengthen the immune system, accelerates wound healing, may reduce the risk of age-related diseases and helps decrease inflammation.
Selenium, a powerful antioxidant, may reduce the risk of certain cancers, prevent mental decline, plays an important role in thyroid function and boosts immunity.
Copper, holds many antioxidants and anti-inflammatory properties and is also known to fight prostate cancer cells ad keep normal cells healthy
Manganese, high in antioxidants and anti-inflammatory properties, Manganese improves bone health and brain function.
Chromium, improves insulin sensitivity, allowing the glucose to be processed more efficiently.
Molybdenum, an essential mineral, activates enzymes to help break down toxins.
Potassium, ensures a healthy brain functions by sending oxygen to the brain.
Choline, produces a neurotransmitter that helps regulate memory, mood and intelligence.
The Proprietary Blend contains many other ingredients to help further assist brain function, mood and focus.
Dosage:
As a dietary supplement take two capsules once to three times daily. For best results take 20-30 min before a meal with an 8oz. glass of water or as directed by your healthcare professional.
Disclaimer:
If under a physician's care, or taking medication, consult your healthcare professional before using this product.  Importantly, if you are pregnant or nursing, or have a known medical condition, do not use without consulting a physician.