Description
Women's Multivitamin – C.O.R.E for Her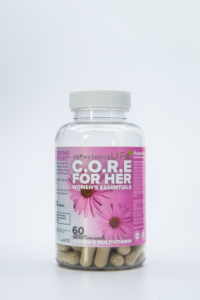 C.O.R.E For Her is a Women's Multivitamin Formula that provides an abundance of essential vitamins, minerals and antioxidants that may support skin complexion, energy levels, organ functions, immunity and cognitive health.
Description:
The Prometheuz Health C.O.R.E for Her, is a women's multivitamin that may support female wellbeing and immunity. These capsules have been carefully formulated to help potentially refuel the body by providing the right nutrients. Our women's ultimate health support capsules are high in antioxidants, anti-inflammatory and anti-aging properties that may help promote proper functioning of cells and organs and increase overall vitality.
Ingredients:
Vitamin A (as Beta-Cartonene)
600mcg
Vitamin C (as Ascorbic Acid)
150mg
Calcium (as Calcium Carbonate)
50mg
Vitamin D (as Cholecalciferol)
10mcg
Vitamin E (as DL-Alpha Tocopherol Acetate)
13.5mg
Vitamin B1 (as Thiamine Mononitrate)
7mg
Vitamin B2 (as Riboflavin)
7.5mg
Vitamin B3 (as Niacin)
30mg
Vitamin B6 (as Pyridoxine HCl)
7.5mg
Folate
667mcg DFE
Vitamin B12 (as Cyanocobalamin)
27mcg
Biotin
300mcg
Vitamin B5 (as D-Calcium Pantothenate)
10mg
Magnesium (as Magnesium Oxide)
50mg
Zinc (as Zinc Oxide)
15mg
Selenium (as Selenium Amino Acid Chelate)
30mcg
Copper (as Copper Gluconate) – 2mg
2mg
Manganese (as Manganese Amino Acid Chelate)
2mg
Chromium (as Chromium Picolinate)
120mcg
Molybdenum
75mcg
Female Support – 192mg

Wild Yam Extract, Red Clover Extract, Lutein, Cranberry Extract, Alpha Lipoic Acid, Lycopene

192mg
Immune Support

Goldenseal Root, Echinacea Extract, Spirulina, Garlic

115mg
Antioxidant Fruit & Energy Blend

Green Tea Extract (Camella sinensis) (leaf), Hawthrone Berries (Cratoegus pinnatifida), Cinnamon Bark Extract (cinnamonium cassia), Bilberry Fruit Extract (Vaccinium myrtillus), Grape Seed Extract (Vitis vinifera L), Black Currant Fruit Extract (Ribes nigrum), Pomegranate Fruit Extract (punica granatum).

187mg
Inactive Ingredients:

Cellulose (Vegetable Capsules), Rice Flour, Magnesium stearate, Silicon dioxide.
Ingredient Benefits:
Vitamin A, benefits the human body by ensuring proper function for the heart, kidneys, lungs and other organs. It also strengthens the immune system.
Vitamin C, also naturally found in certain foods, is an essential vitamin for the human body. Vitamin C acts as an antioxidant by protecting cells from damage, strengthens the immune system and maintains healthy bones.
Calcium is a much needed mineral to help maintain and build stronger bones. The heart, muscles and nerves also require calcium to function properly.
Iron, found in both meat and plant based foods, is an important mineral that helps preserve many vital bodily functions, such include general energy levels and focus, regulate temperature and immunity.
Vitamin D, is naturally produced in the body in response to the sun and is also found in certain foods. Vitamin D helps regulate calcium and phosphate in the body which help keep bones, teeth and muscles healthy.
Vitamin E, found in some foods, is an essential vitamin the body needs to support a healthy immune system. Vitamin E also holds antioxidant and anti inflammatory properties that benefit and promote a healthier skin complexion.
Vitamin B Complex is composed of eight B vitamins that promote normal brain function, energy levels, cell metabolism and growth.
Folate, one of the B vitamins, plays an important role in producing red and white blood cells in bone marrow. It also converts carbs into energy and produces DNA. Folate also helps with mental fatigue and irritability as it is able to supply the body with energy.
Biotin, also a B vitamin, converts food into energy and helps boost organ health including hair and nails.
Magnesium, an important mineral with anti-inflammatory benefits, helps regulate the nervous system and improves brain function and mood.
Zinc, a nutrient in the body, helps strengthen the immune system, accelerates wound healing, may reduce the risk of age-related diseases and helps decrease inflammation.
Selenium, a powerful antioxidant, may reduce the risk of certain cancers, prevent mental decline, plays an important role in thyroid function and boosts immunity.
Copper, holds many antioxidants and anti-inflammatory properties and is also known to fight prostate cancer cells and keep normal cells healthy
Manganese, high in antioxidants and anti-inflammatory properties, Manganese improves bone health and brain function.
Chromium, improves insulin sensitivity, allowing the glucose to be processed more efficiently.
Molybdenum, an essential mineral, activates enzymes to help break down toxins.
Potassium, ensures a healthy brain functions by sending oxygen to the brain.
Choline, produces a neurotransmitter that helps regulate memory, mood and intelligence.
Female Support

Wild Yam Extract, a natural alternative to estrogen replacement therapy, improves vaginal dryness, lessens menstrual cramps and increasing sexual drive.
Red Clover Extract, a herb, holds many health benefits such as reducing hot flushes, arthritis and improves skin and hair health.
Lutein, known as the 'eye vitamin' is said to prevent eye diseases and vision loss.
Cranberry Extract, high in antioxidant, lowers the risk of urinary tract infection, improves immunity and prevents certain cancers.
Alpha Lipoic Acid feeds energy to organs in the body and also holds many antioxidant properties which may reduce inflammation, improve skin aging and nerve function.
Lycopene, a powerful antioxidant, protects the skin from sun damage, improves heart health and lowers the risk of certain cancers.

Immune Support

Goldenseal Root, high in antibacterial and anti-inflammatory properties, Goldenseal is used to reduce heavy and painful periods and improve digestion.
Echinacea Extract, improves immunity by increasing white blood cells, which help fight infections.
Spirulina a type of algae extremely high in antioxidants, anti-inflammatory and anti-cancer properties, may prevent cells from damage and reduce blood pressure
Garlic contains compounds with high medicinal properties that can prevent and fight off common colds. Garlic may even reduce blood pressure, reduce cholesterol and improve heart health.

The Antioxidant & Fruit Energy Blend contains many other ingredients to help further assist sustained energy throughout the day and proper bodily functions.
Dosage:
Take two capsules as dietary supplements in the morning after breakfast.
Disclaimer:
If under a physician's care, or taking medication, consult your healthcare professional before using this product.  Importantly, if you are pregnant or nursing, or have a known medical condition, do not use without consulting a physician.