Description
TUDCA  Capsules – Advanced Liver Protection and Recovery

Tudca is an ambiphilic bile naturally found in our bodies and stands for the term tauroursodeoxycholic acid. In recent times bodybuilders and weight lifters have started benefiting from Tudca to potentially help rehabilitate and restore liver function along with decreasing cholesterol levels and possibly optimizing insulin sensitivity.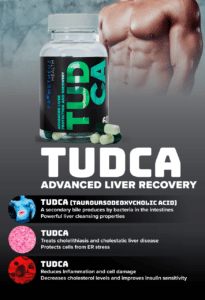 Description:
TUDCA, is a bile acid derivative that occurs naturally in the body. It's been used therapeutically in traditional Chinese medicine for millennia, for hepatic and biliary disorders and prescribing it to potentially help detoxify the liver, treat "heat illness" such as fever, spasms, and vision problems, and improve many other conditions. We only make small amounts of this health-giving compound in our body, but this bile salt may actually influences many bodily functions, from the brain to the kidneys to eye health and more.
Our Tudca capsules may provide advanced liver recovery and could fight off diseases such as cholestasis. One capsule a day can help you to maintain healthy liver cells and reduce weight. Tudca capsules have the additional benefit of having almost zero to none side effects.
| | |
| --- | --- |
| Ingredients | |
| Tauroursodeoxycholic Acid | 250mg |
Ingredient Benefits:
TUDCA (Tauroursodeoxycholic Acid) ­is the taurine conjugate of UDCA (Ursodeoxycholic Adic). Tudca is a secondary bile produced by bacteria in the intestines.
TUDCA is a powerful liver cleansing supplement, highly relied on by bodybuilders and weightlifters. It has also been used to treat cholelithiasis and cholestatic liver disease.
TUDCA also may enhances protein folding, protects cells against ER stress, decreases renal cell death and inflammation.
TUDCA may decrease cholesterol levels and improves insulin sensitivity, this is achieved by reducing ER stress.
Dosage:
Adults, take two (2) gummies daily, or as directed by your healthcare professional.